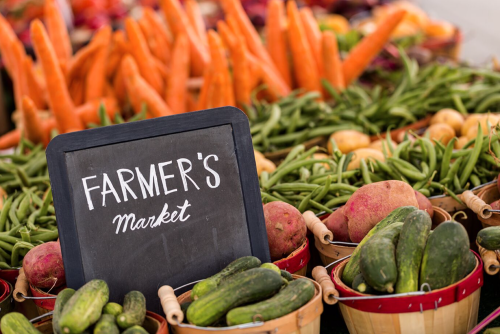 With summer in full effect, you and your family may have an abundance of free time on your hands. What's the perfect way to have fun in the sun, listen to live music, support local businesses, and have a positive impact on the environment? The Farmer's market, of course!
In this blog, we'll touch on the benefits of shopping at your local farmers market and of course, plug our neighbors. As you may know by now, our offices are located in Oakland and Pasadena, CA, both cities with great markets to offer you and your family this summer!
Why shop at a farmers market?
A big reason someone might choose to shop at the farmer's market is for something as simple as the taste. Unlike the produce we see in our local grocery store, these fruits and vegetables are able to fully ripen in the field, skipping a very common practice of simulating the ripening process. Additionally, the produce is brought directly to you–bypassing the usual long haul and placement in storage. These two factors alone can dramatically impact the taste of your fruits and veggies. It's these same transportation and distribution techniques that can cause us to take our food for granted. Seeing these farmers and their families can help you to feel connected to where your food comes from.
The sellers at these marketplaces are family farmers in need of support as they may be struggling to keep up with the competition–large scale, corporate-ran farms. Buying directly from these farmers also gives them a chance at a larger return for their work and investment.
On average, food travels 1,500 miles to end up on our plates here in the U.S. This transportation has a huge impact on our fossil fuel issue, contributing to pollution and excess trash through packaging techniques. Shopping at your local farmer's market can help to protect the environment.
What produce is in season?

Another great part of the farmer's market is the variety! It is very common to see your produce in new colors you may have never seen at the grocery store. There are also some more uncommon types of produce available as well. When shopping for produce, a great way to maximize taste, freshness, and nutrition is by consuming foods that are in season. Some items in season right now in California are…
-Apples
-Asparagus
-Basil
-Berries
-Green Beans
-Lemongrass
-Melons
-Peaches
-Plums
Now, where to shop?
Pasadena:
Villa Parke Center Pasadena Farmers Market
When: Tuesday, 8:30 am – 12:30 pm
Where: 363 East Villa Street, Pasadena, CA
Victory Park Pasadena's Farmers Market
When: Saturday, 8:30 am – 12:30 pm
Where: The 2900 Block of North Sierra Madre Boulevard, Pasadena, CA
Old Pasadena Certified Farmers Market
When: Sunday, 9:00 am – 2:00 pm
Where: Holly Street at Fair Oaks Avenue, Pasadena, CA
South Pasadena Farmers Market
When: Thursday, 4:00 pm – 8:00 pm
Where: On Meridian Ave and El Centro Street next to the Gold Line South Pasadena Station, South Pasadena, CA
Oakland:
Fridays in Old Oakland
When: Friday, 8:00 am - 2:00 pm
Where: Oakland's Downtown District; 9th Street at Broadway
Farmers Market at Lake Merritt/Grand Lake
When: Saturday, 9:00 am – 2:00 pm
Where: Splash Pad Park, Oakland, 94610
Temescal Farmers Market
When: Sunday, 9:00 am - 1:00 pm
Where: North Oakland DMV 5300 Claremont Ave, Oakland, CA 94618. Adjacent to Frog Park
Freedom Farmers' Market North Oakland
When: Saturday, 9:00 am - 2:00 pm
Where: 4521 Telegraph Ave, Oakland
On your next free weekend, be sure to check out one of these open-air markets. Here's to great food and great taste!