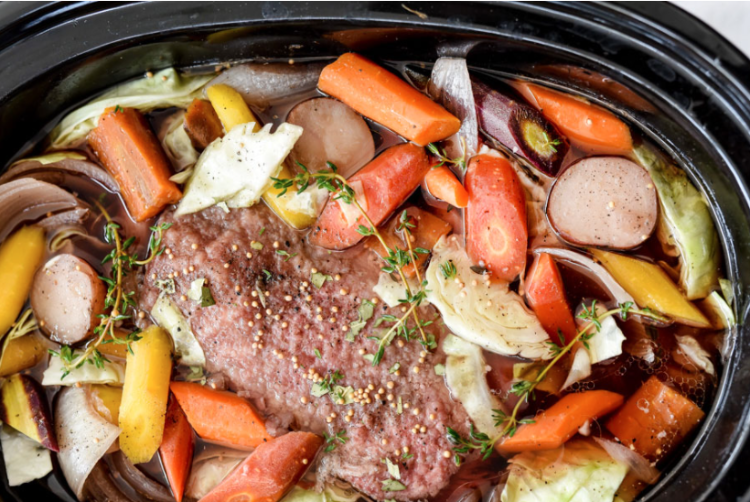 Looking to get in the St. Patrick's Day spirit but don't have time to go out this year? We have the perfect recipe: easy to prepare, easy to clean, cooks while you're sleeping or preoccupied, and can make for plenty of leftovers…Corned beef and cabbage, right from your Crockpot at home.
Here's what you need:
-3 carrots , peeled and cut into 3-inch pieces
-1 yellow onion , peeled and quartered
-1/2 pound small potatoes , halved
-1 corned beef brisket (about 3-4 pounds), plus
a packet or 1 tablespoon of pickling spice
-2 8-12 ounce beers (Ales or lagers are recommended)
**If you aren't a beer drinker, a cold beef broth will also do
-6 sprigs fresh thyme
-1/2 head cabbage , cut into 1 1/2-inch wedges
-1/2 cup sour cream
-3-4 tablespoons prepared horseradish, to taste
Ready to cook? Here's all you need to do:
-Arrange the carrots, onion, potatoes, and corned beef in the slow cooker
-Pour the beers over the veggies
-Sprinkle with fresh thyme leaves.
-Cook on HIGH for 4-5 hours or until the corned beef is tender.
-Get some work done, get some sleep, etc
-Place the cabbage on top of the beef and continue cooking for 1 more hour until the cabbage is tender
*Recipe courtesy of
foodiecrush.com
This feeds a family of four heartily, or can be saved for leftovers. You can even take the meat and make some Beef Reuben sandwiches. Looking for more? We recommend adding a drop of green liquid food coloring into your beer glass before you pour. BOOM-green beer!! It is possible to be in spirit, have some fun, and not spend too much money doing it. And best of all, it can fit in your busy schedule.