It's that time of year again…Thanksgiving and Friendsgiving Dinners are in full effect. Struggling to decide what to contribute? Want to switch things up? Harrington Group is here to help! Whether you are hosting dinner, or adding to the potluck, this side dish is SURE to shine.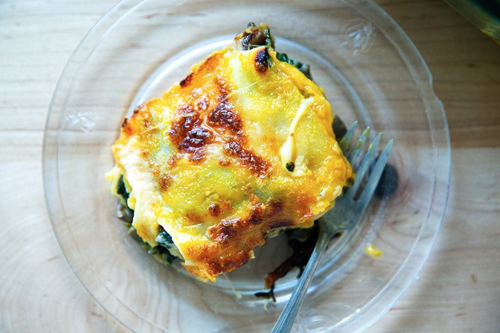 Butternut Squash LasagnaHere's what you need:
Fresh Sage. Finely chopped, 1 tablespoon.
Onion. The whole thing, diced.
Kosher Salt.
Olive Oil. ½ Cup.
Butternut Squash. About 4 cups, peeled.
Oyster Mushrooms. 1 pound, roughly chopped.
Swiss Chard. 1 pound, with leaves removed from stem.
No-Boil Lasagna Sheets. 12 to be exact.
Parmigiano Reggiano. About 1 cup grated.
Low Moisture, Whole Milk Mozzarella. 8 ounces, pulled into small pieces.
Ready to cook? Here's all you need to do:Get to Saucin.
Start by heating olive oil in a pot and add in chopped sage until you begin to smell it. Next throw in your cubed squash, diced onion, water, salt, and pepper. Simmer this until your squash is tender. Once that is ready, place the mix into a food processor. Adding salt and pepper to taste is necessary. Transfer your delicious sauce into a bowl or some sort of storage vessel.
Make that Lasagna.
Preheat your oven to 375. Oil a large skillet and raise heat. Next, add in your mushrooms and season with salt and cook them until the edges are browned. Move these to a bowl to cool. Going back to your skillet, add in your swiss chard leaves and season with salt. Using tongs, rearrange the leaves, encouraging them to wilt. Lastly, transfer your leaves to cool.
Lasagna...Assemble!
Layer up! Line a baking dish with your butternut squash sauce and three sheets of lasagna noodles on a baking dish. Evenly distribute your mushrooms, swiss chard leaves, parmesan, and mozzarella cheese into the layers as well. Repeat this until your final layer, which will instead be topped with boiled water to ensure moisture.
Final Product.
Let the lasagna sit covered with foil in the fridge for up to 24 hours. Lastly, transfer the pan into the oven to bake for 40 minutes. Remove foil and bake for 10-20 minutes. You'll want to remove the pan once the cheese is melted, golden, and bubbly.
*Recipe courtesy of alexandracooks.com*